2003/09/19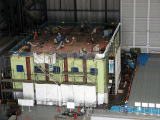 2003/07/23
2003/04/16
2003/03/19
2001/10/22
2001/02/22 Shaking table block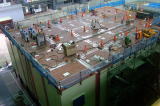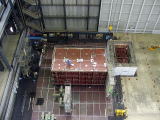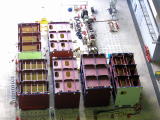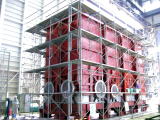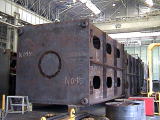 Process of shaking table blocks welding
Shaking Table
| | |
| --- | --- |
| Area | 20m x 15 m |
| Height | 5.5 m |
| Weight | 750 tf |
| Payload | 1,200 tf |
| Material | Steel (JIS G3160 SM400 ) |
| Natural frequency | 25 Hz or less |
| Useful life | 20 years or more |
| Bolthole | Every 1 m (4 holes at one place) |
| Allowable load of bolthole | 25tf |
Specifications


Size : 20 m x 15 m Load capacity : 1,200 tf.
A full-scale destructive test of a 4-story reinforced concrete building can be performed on this shaking table.
Top (Submerged arc welding) : - 79 mm
Side (Electro gas arc welding) : - 38 mm
Bottom and inner rib (Semiautomatic CO2 arc welding) :- 56 mm
Four verification blocks
( FEM model )
The four blocks were welded beforehand in order to verify the welding methods.
Welding line
Welding method
On-site welding line
Four verification blocks
Shaking table ( weight : 750 tf )
The table is designed to be assembled by welding 32 blocks
at the construction site, considering the limitation of transportation.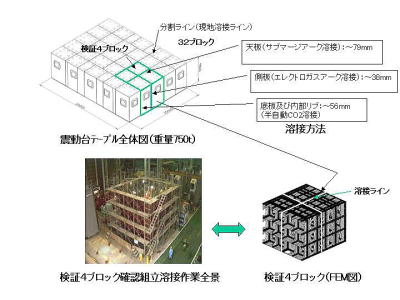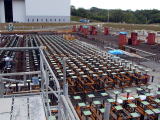 2002/06/20 Floor bolts in experiment building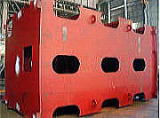 Welding-finished single block of
shaking table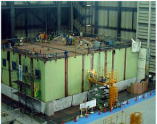 2003/11/28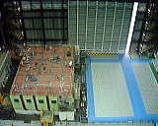 2004/01/31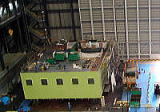 Whittling the upper plate of the table after welding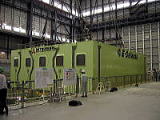 2004/05/19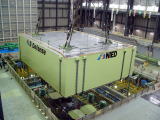 Shaking table fixed in the pit