Science for Resilience
Realizing Resilient Society to Natural Disasters
In the first half of the 21st century, mega disaster such as the Nankai Trough earthquake is expected to occur. What shape should Japan's disaster risk reduction take to overcome such national crisis? Unfortunately, it is not possible to control the natural hazards (natural phenomena). However, it is within our means to predict how the natural hazards will behave and raise the level of our ability of disaster risk reduction. What is important is not to approach disasters as separate entities, but rather to take a comprehensive approach based on the concept of "resilience" for resiliently overcoming disasters.
National Research Institute for Earth Science and Disaster Resilience (hereinafter "NIED") promotes diverse research with the basic objective of "realizing resilient society to natural disasters by enhancing science and technology for disaster risk reduction". Science and technology for disaster risk reduction referred to here means properly understanding and predicting what will occur, preemptively preventing disasters, stopping damage from cascading, and realizing recovery and rehabilitation from disasters. The chart below constitutes an overview of NIED's initiatives for science and technology for disaster risk reduction.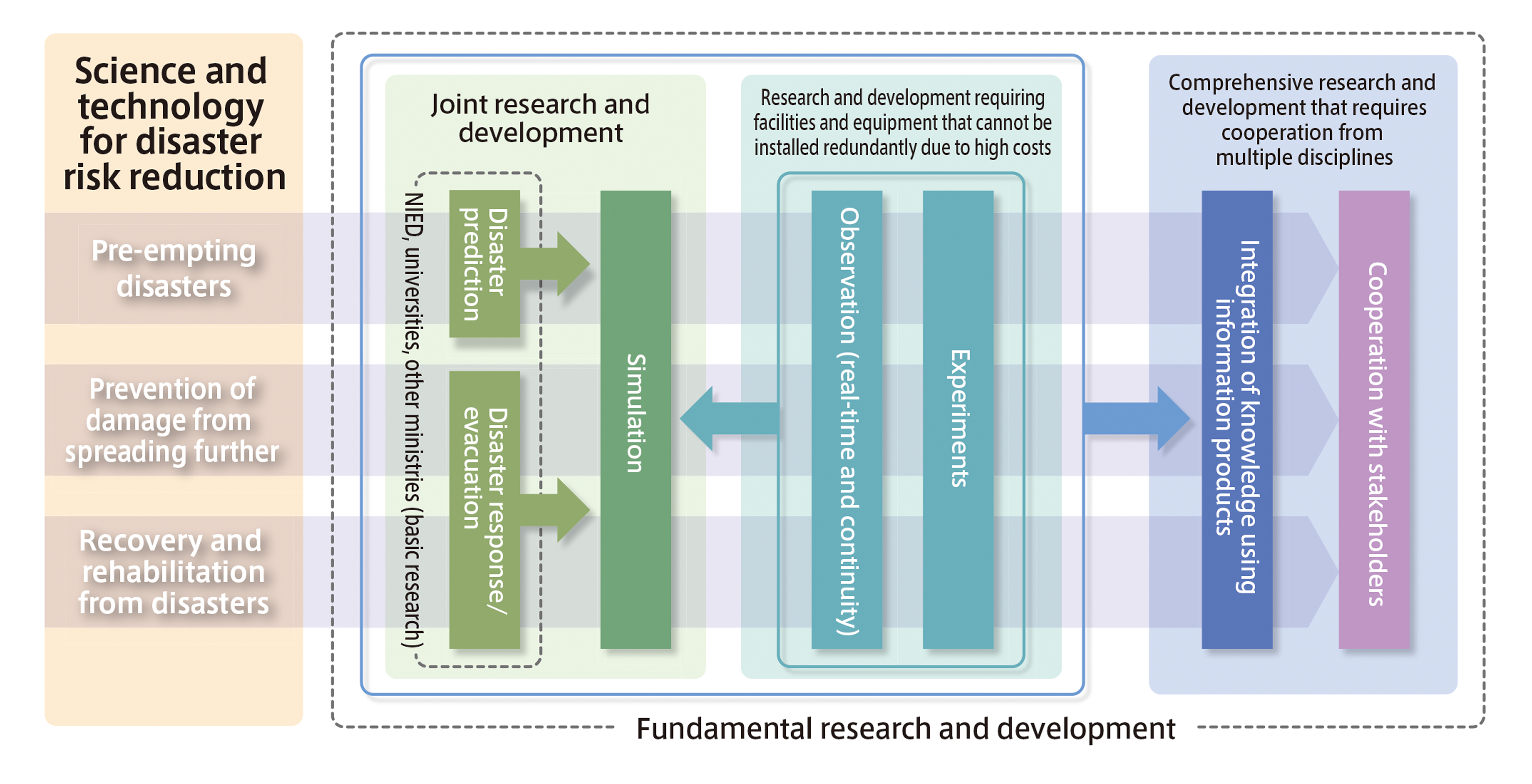 I believe that the most important element of disaster risk reduction is strengthening the self-help ability of each individual. This means having the correct understanding of disasters, making the necessary preparations, and having the ability to overcome hardship in the face of great difficulty if a disaster strikes. As there are limits to the public help provided mainly by the national and local governments, we must think about cooperation with familiar faces as well as mutual assistance with strangers. With regard to mutual assistance, NIED places a lot of importance on what private companies can do. The higher the ability of distribution and energy supply to continue business operations, the more resilient a community becomes. NIED thus promotes initiatives to create systems for supporting the resilience of private companies.
With its stated objective of "organizing a core institute for innovating science and technology for disaster risk reduction", NIED commenced its 4th mid-to-long term plan in 2016. The Kumamoto Earthquake struck shortly after, and NIED's research results were applied to the on-site disaster response and recovery and rehabilitation. Along with other activities since then, I feel that NIED's approach and existence have been widely recognized.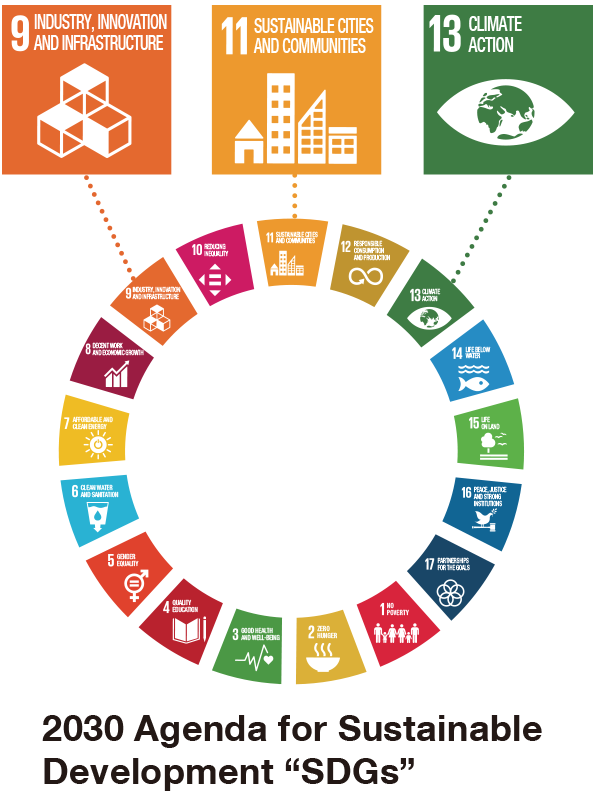 I believe that the greatest threat to the sustainability of our nation is that posed by natural hazards. In 2015, the United Nations adopted the 2030 Agenda for Sustainable Development Goals (SDGs). It can surely be claimed that the enhancement of science and technology for disaster risk reduction is the major premise of the SDGs.
In 2018, NIED launched branding activities to rethink the existence of NIED. What emerged as particularly important from extensive discussion among our personnel was the notion that "each individual is the leading figure in disaster risk reduction". The desire for NIED to bring this situation is embodied in the tagline of "Science for Resilience".
Rooted in this identity, NIED will pursue research and development that society requires, with a scope that encompasses the social implementation of our research results. In cooperation with people from various fields, we will realize the "better prediction, smarter prevention, and faster restoration to protect lives and livelihoods for a sustainable future".