Research Center for National Disaster Resilience
Contributing to "Enhancement of National Disaster Resilience" through R&D for New Technologies and Their Social Implementation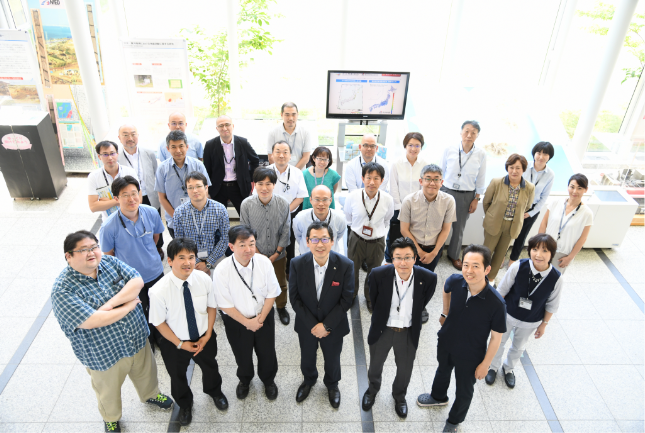 The entire nation faces damage caused by large-scale earthquakes and volcano disasters and wind and water disasters that are intensifying due to global warming. To keep this to an absolute minimum, we must raise the response capabilities of the national government and municipalities to a higher level, ensure that each individual citizen can evacuate securely to protect their lives, and ensure the rapid recovery of wide-area economic activities. This center applies satellites, AI and big data in R&D for new technologies that serve to bolster the resilience of the state, and conduct activities to ensure that these findings are utilized to the fullest extent possible by government agencies and municipalities. We pursue close cooperation with many related organizations in order to maximize the results of R&D.
Government's Disaster Response
Ⅰ Supporting Evacuation/Emergency Activities
Developing a comprehensive evacuation/emergency activity support system, to provide each citizen with the disaster information required to evacuate, and to ensure the reliable implementation of wide-area evacuation and emergency activities during large-scale disasters.

Ⅱ Analysis/Prediction of Disaster Circumstances
By using AI to analyze satellite data and big data, we can grasp the circumstances facing disaster victims, and design a needs-based system for analyzing and sharing disaster conditions.

Large-scale disaster
Ⅲ Support for Rapid Recovery of Wide-area Economy
We are developing a system to support the rapid recovery of wide-area economies, which involves designing area BCP and providing support for optimal emergency recovery work based on the rapid monitoring of the state of damage sustained by principal infrastructures.

Ⅳ Efficient securing of water resources
To secure emergency water resources and to mitigate drought damage during disasters, we are developing a groundwater usability system for disaster situation, which can grasp the sustainable amount of ground water intake in response to ground water obstructions.

Climate Change
Ⅴ Countermeasures for Linear Rain Bands
We are developing an observation and prediction system for a precipitation of a linear rain band that combines observation with analysis, in order to determine evacuation areas from water and landslide disasters caused by linear rain bands, and for issuing evacuation advisories/orders.

Ⅵ Countermeasures for Super Typhoon
We are developing a super typhoon damage prediction system for predicting storm surge/tidal waves, river levels, and inundation area.
Cooperation

Disaster Response for Municipalities
Ⅶ Disaster Response for Municipalities
We are developing an integrated system for municipality disaster response, which uses AI to process massive amounts of disaster information and automatically extract the necessary information for providing support for making judgments about areas where evacuation is required and for the timing of evacuation advisories/orders.

*One of the themes in the 2nd term of the SIP (Strategic Innovation Program) promoted by the Cabinet Office is "Enhancement of National Disaster Resilience (Disaster Risk Reduction)"
NIED is participating in 5 R&D Items, Ⅰ Ⅱ Ⅲ Ⅴ Ⅶ.
NIED's Main Research and Development Areas
Ⅰ.Support for Evacuation/Emergency Activities
By aggregating real world dynamic data in cyberspace and analyzing disaster dynamics, we can provide information to support proactive decision making, helping the government to implement an optimal disaster response. We are developing a system that organically links and integrates with other systems of governments/related organizations.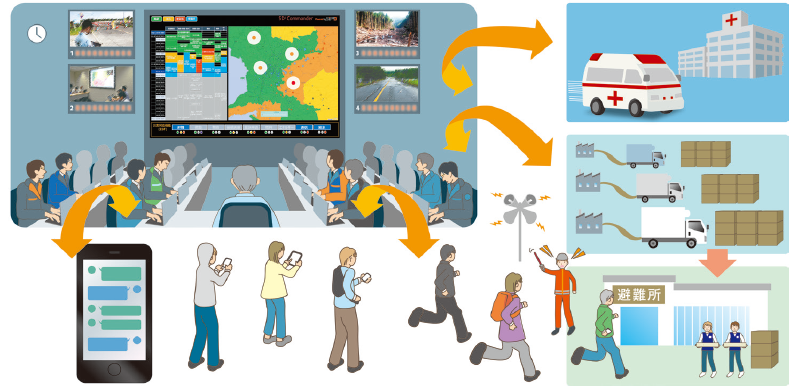 Ⅱ. Analysis/Prediction of Disaster Damage Situation
We apply various remote sensing technologies including satellites to carry out observation, and to immediately estimate the area affected by a disaster. By promptly analyzing and sharing observation data, we aim for it to be efficiently utilized in disaster response.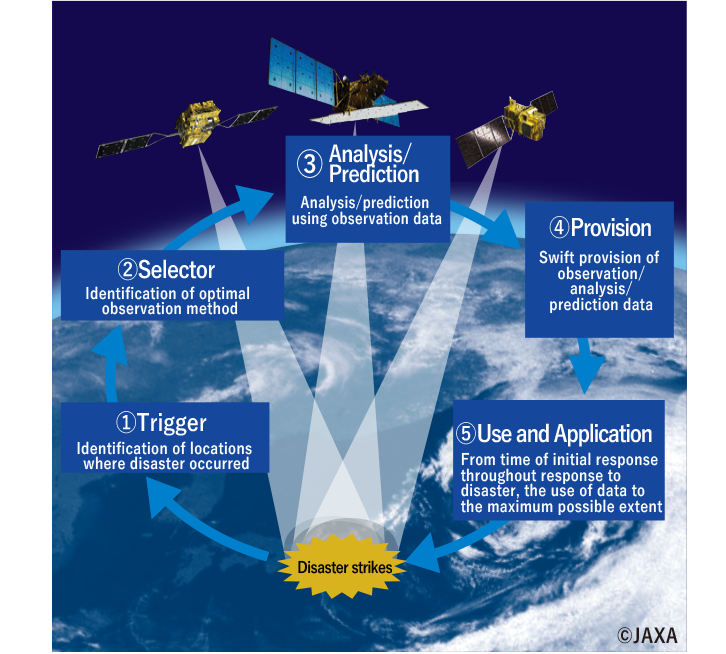 V. Countermeasures for Linear Rain Bands
Linear rain bands are a phenomenon whereby cumulonimbus clouds generate over and over in the same location, capable of producing incessant torrential rain for more than several hours. We are focused on developing technologies for early prediction of linear rain bands, and created a database that combines observation technologies to capture the amount of water vapor required to trigger these cumulonimbus clouds with rainfall and disasters that occurred in the past.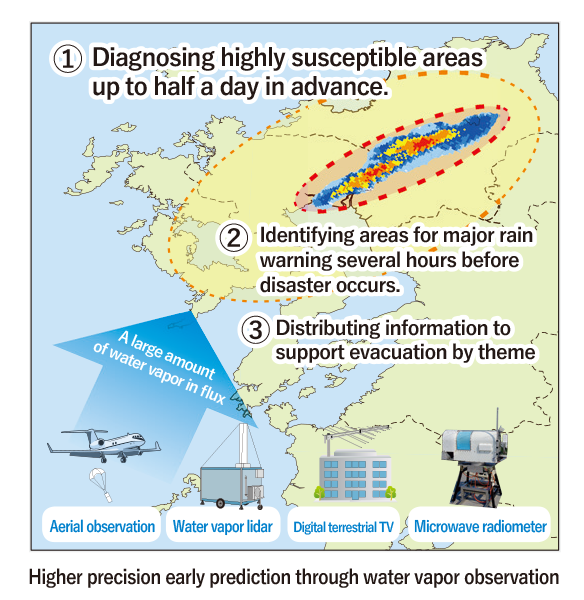 Smoothly bringing together each research to realize consistent R&D from basic research to social implementation
Director-General IWANAMI, Koyuru
Each R&D theme is carried out in cooperation with other institutions, centered research director of the research program. The center's role is to smoothly conduct close linkages for R&D themes, and to maximize the results. One of the characteristics of SIP's "Enhancement of National Disaster Resilience (Disaster Risk Reduction)" is that research is conducted in a consistent manner spanning basic research all the way to social implementation. This means the reliable provision of information for decision-making for secure evacuation and emergency activities during a disaster, to the places that require it. We hope to equip the entire nation with the capability to overcome disasters that are of a scale that could cause a national crisis.